Horizontal Machining:
Occurs on a horizontal machining center using a spindle parallel to the ground floor and cutters that remove metal from a workpiece.
Vertical Machining:
Similar to horizontal machining, Vertical machining requires the use of a vertical machining center with a spindle set vertically.
​
Fixture:
A device used to locate or support workpieces during machining operations. Usually custom designed to hold a specific workpiece.
Workpiece:
The object being machined or worked on.
Spindle:
Rotates cutting tool.
​
Rotary Table:
A machine tool attachment that holds workpieces on a rotating axis. In other words, it holds the part and turns it during the machining process.
Chuck:
Holds the workpiece.
NC Controller:
Programmable automation in which the machine tool is controlled by a predetermined program of coded instructions and commands.
Tailstocks:
Part that supports the end of a workpiece with a center.
Faceplates:
A circular plate with t-slots for mounting the workpiece.
Presetter:
A device that measures the cutting edges of tools to assure they precisely match job specifications and are ready to be used in the machine.
​
Clamps:
A stationary workholding device having one or more moveable jaws that are used to clamp a workpiece.
Milling:
An operation designed to remove material using a rotating cutter.
Boring Tool:
A cutting tool mounted in the boring bar that is used to true and enlarge a previously drilled or cored hole. Each successive tooth removes a small amount of metal to enlarge a hole to a size.
Backlash:
The lost motion or looseness (play) between the faces of meshing gears or threads
​
Rotary Joint:
A rotary device that connects rotating equipment to fixed piping for the transfer of hydraulic oil, air, and other media
Lathe Tool:
Tools used to cut our drill a workpiece that rotates on an axis within the lathe machine.
​
Tool Holders:
Short steel bar clamped to a machine on one end with an additional clamp on the opposite end to hold small interchangeable cutting bits.​
Collets:
A segmented band or sleeve put around a shaft or spindle and tightened so as to grip it.​
Vices:
A tool with movable jaws that are used to hold an object firmly in place while work is done on it.​
Angle Head:
Tools used for milling, drilling, counterboring or threading.
Pallet Systems:
Automates the loading and unloading of one or more machining centers with workpieces from a central storage location
​
Encoder:
Measuring device mounted to the servomotor to measure travel or distance.
Indexer:
Another version of a rotary table.
​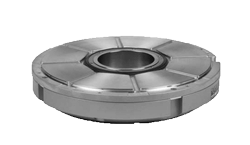 Scales:
Separate measuring device to increase the accuracy of the machine center or rotary table.
From Indexers to Chucks, A Guide on Machine Tool Accessories ​
"What is a rotary table?" That's the very first question I asked when I started at Koma. There I was, 26 years old and as new and green to the industry as rookie pitcher. A pitcher, mind you, who had never seen a game, let alone knew the rules or even how to play. It was daunting, to say the least. Throw some chucks, angle heads and a few presetters in the mix and I very quickly felt in over my head. Luckily for me, I happened to be surrounded by a fantastic team of seasoned pros, all of whom were extremely patient and more than happy to show me the ropes.
It's that spirit of teaching and passing on knowledge that brings us to our first blog topic.
This week on Koma Source we're going back to basics and laying out the foundation for machine tools in the industry. So, if you're new to the world of machining & manufacturing, or even an old pro who just needs a refresher, we've got you covered.
​